The holidays can be challenging for single friends or friends who just moved to a new city. Here's how you can help.
For those worried about single friends over the holidays, now is the time to step in and show them they're not alone and they're loved.
Think about what works best with your friend; whether you should be funny, light-hearted or affectionate. Everyone is different and has their own unique needs.
There are several benefits to being single, however. Suddenly, you're not being pulled in a million directions for where to spend the holidays. Presents certainly can fill credit cards up quickly. There's the freedom of not needing to impress your significant other's family or stress about what to get their mother.
While finding the right thing to say might vary, here are seven things you can do with your friends that show them the holidays are about your friend-family too.
1.Take your single friend to a fun holiday party.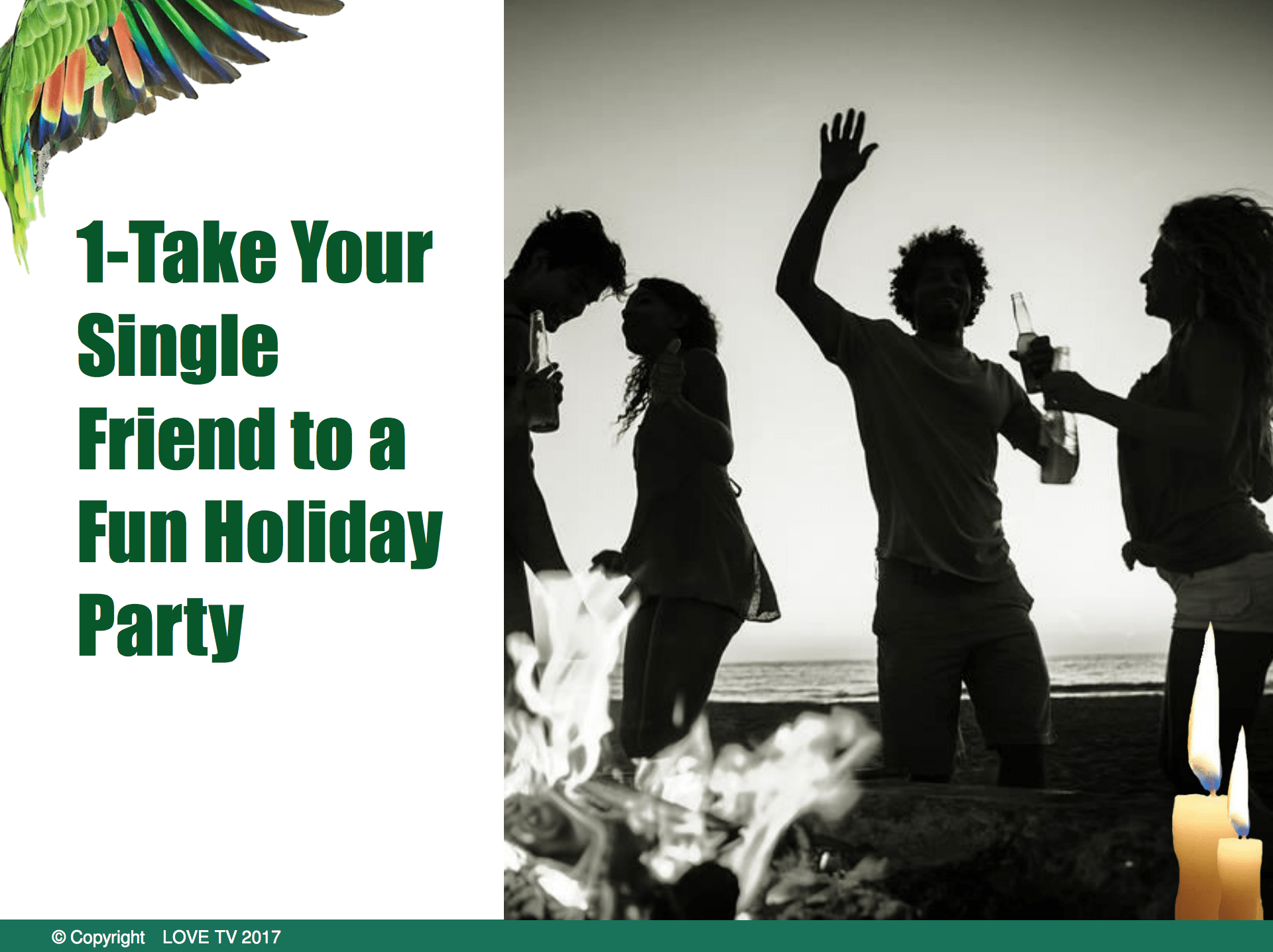 Whether through work, charities or friend parties, there are always gatherings around the holidays to share in food and fun. Find one that gets your single pal out for a night to enjoy the season and your friendship.
2. Ask your friend to donate their old flame's belongings to your favorite charity.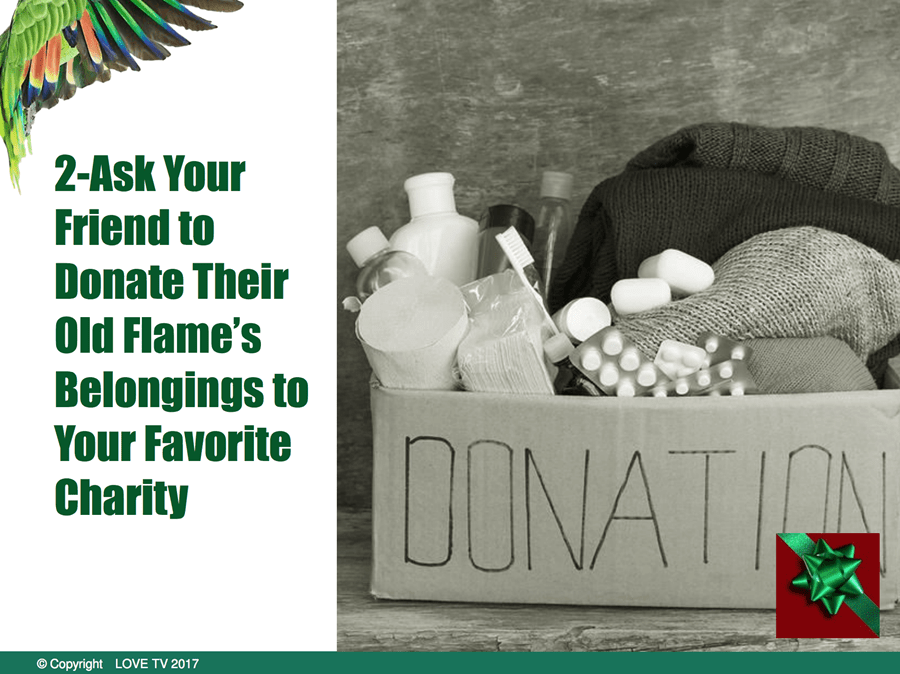 While there is nothing more cathartic than seeing your ex's stuff go up in the smoke from a bonfire, there are so many families that are in need. For parents who struggle every day to make ends meet, gently used clothes, games, action figures, books and more can be the perfect donation to a local charity. Your friend can burn the toothbrush, though.
3.  Sit down in front of a fire and help your friend write a Santa Wish List for love.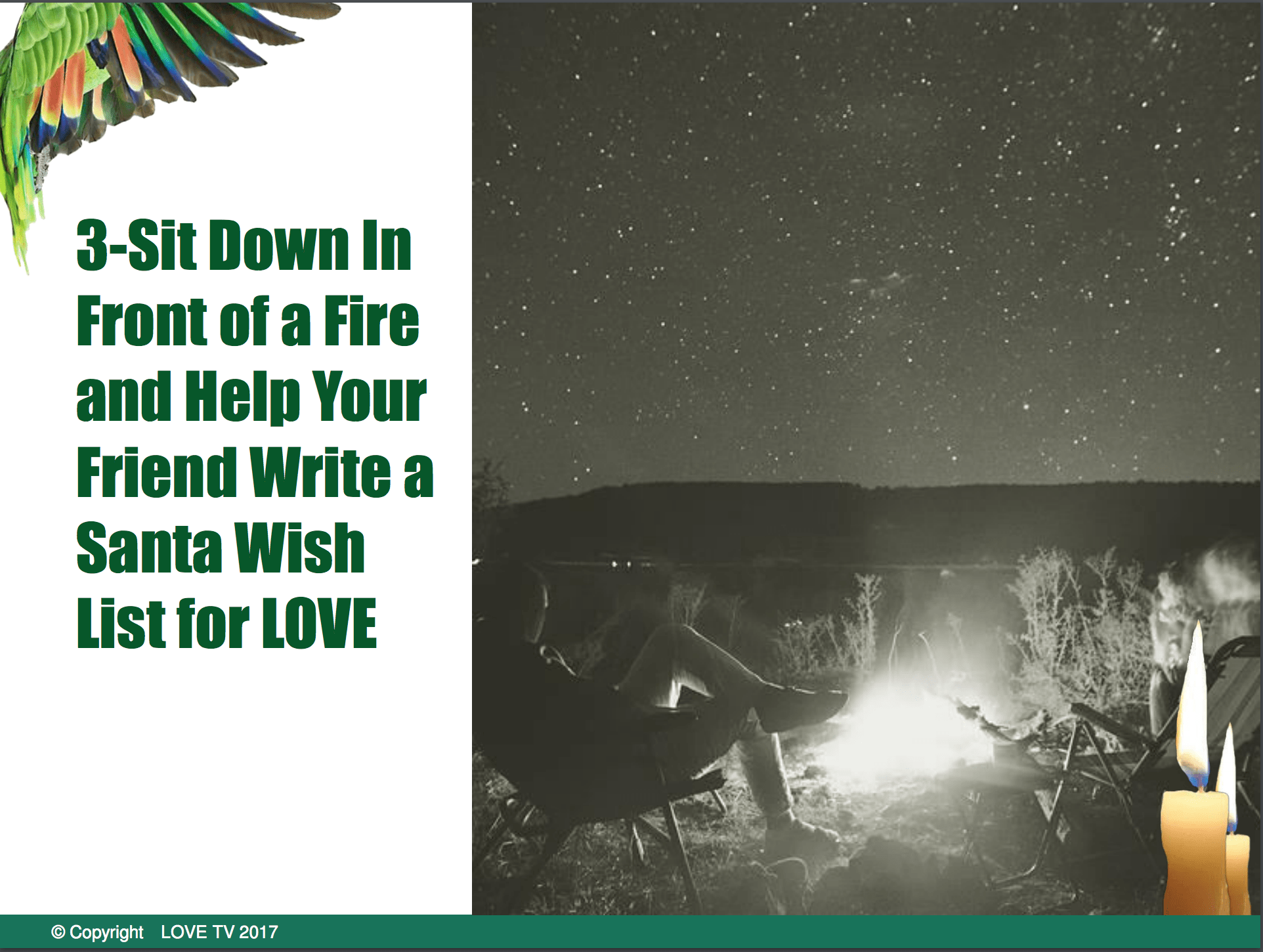 December is a great time to think about what the next year will bring. While we always set goals and New Year's resolutions, this can be a perfect opportunity for your friend to make a new relationship plan.
Take stock in that last relationship and talk about what worked and what didn't work. What did your friend learn about themselves? How did the ex make your friend a better or wiser person?
Then make a Santa list for what's next. What are the things your friend now realizes they need in a relationship? What kind of lover or lovers are they seeking to bring into their love life? Let your friend dream about their next amazing lover! What qualities does that person have? The possibilities are endless and it helps your friend look love forward and not dwell in the love past.
4. Give your friend a "sexy stocking" to get them in the mood again.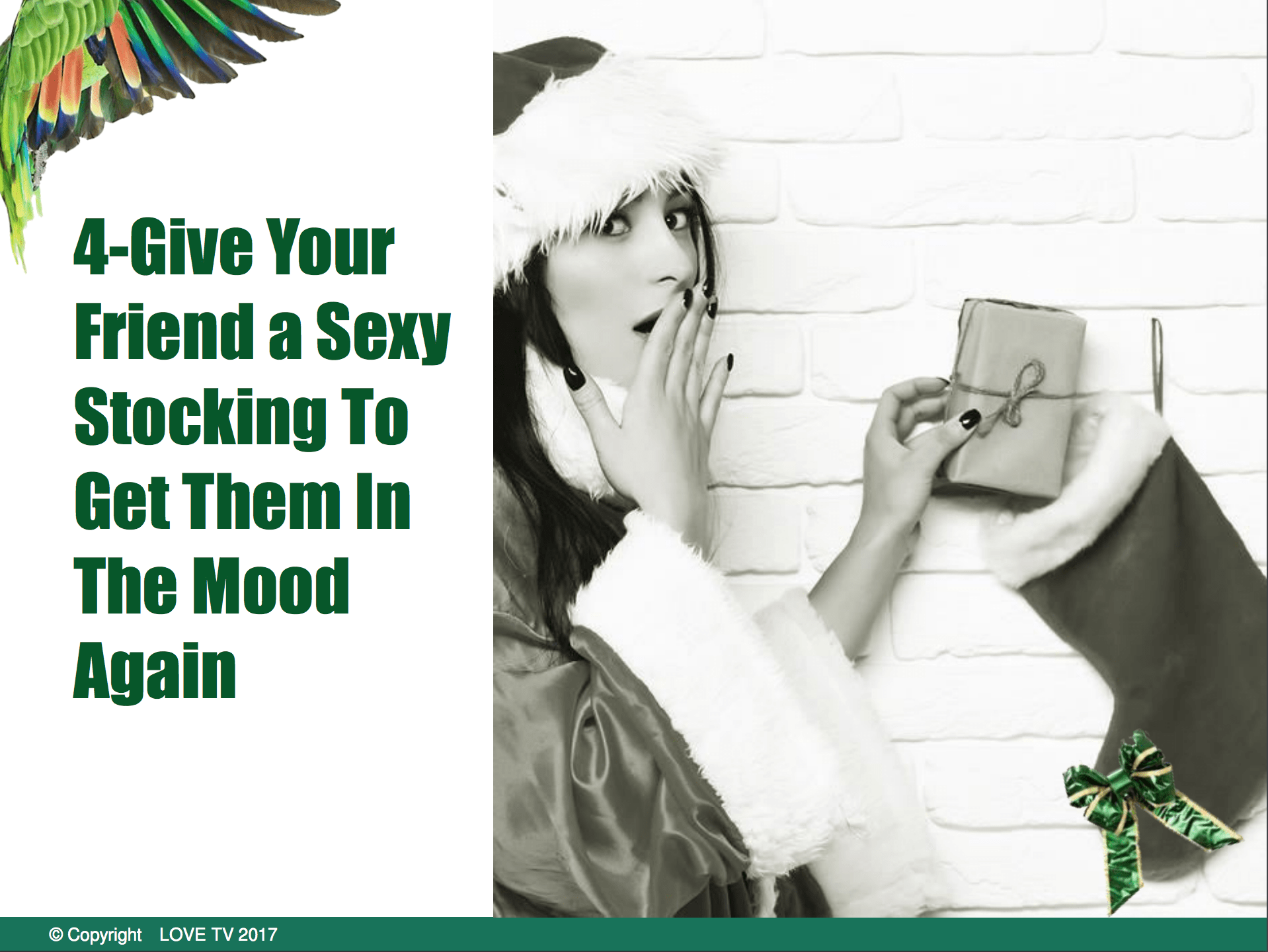 Breakups can be a hit to the heart and libido, especially if you're not over someone and having a hard time getting back out there and meeting people. Don't let your friend go without. Spice up their stocking with some secret treats to encourage your friend to move forward. What a perfect way to bring sexy back into your friends life this season.
5.  Surprise your friend with a LoveTV membership to speed up their success for love in 2018.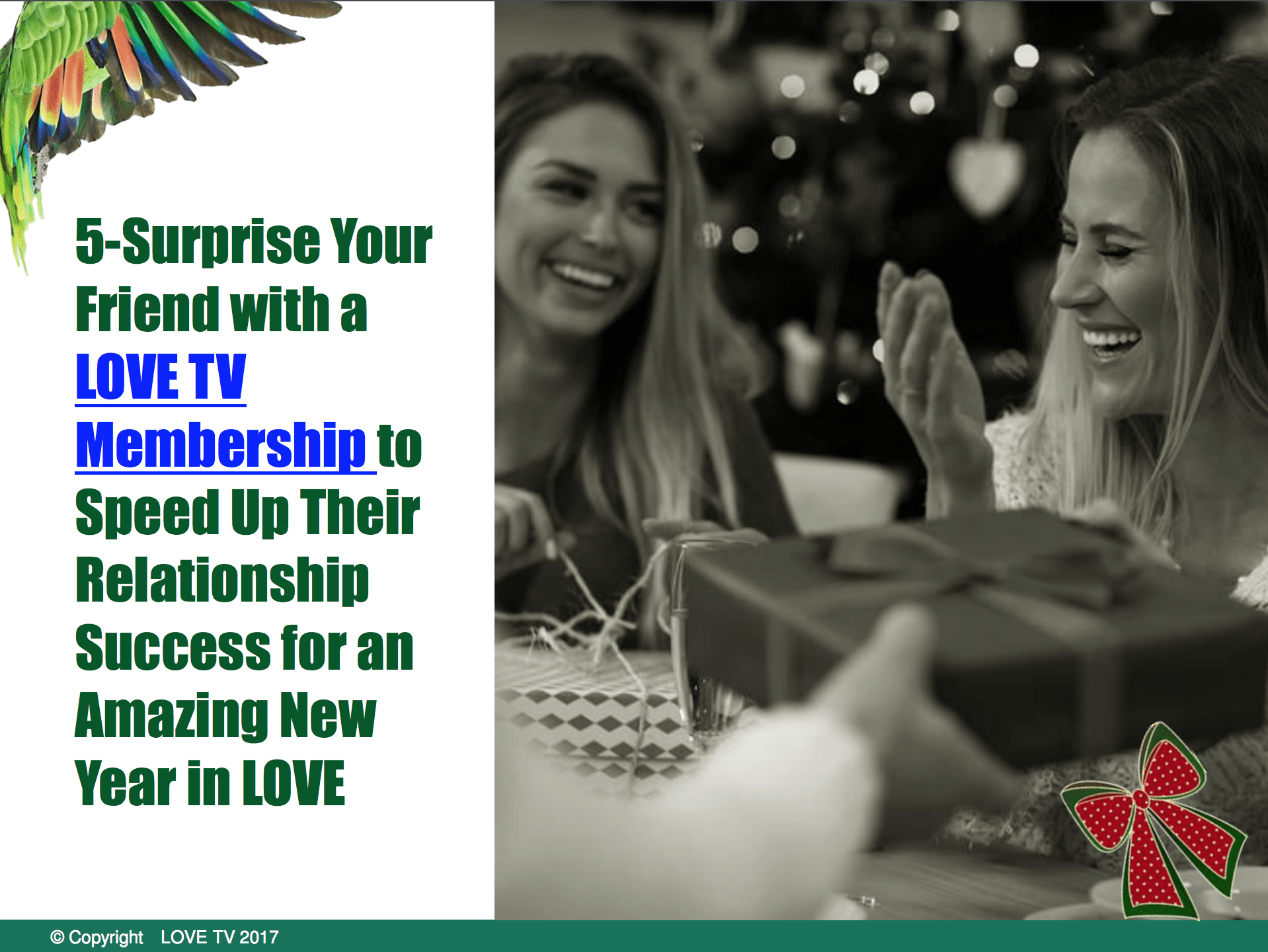 If your friend is ready for a new love story better than they have had historically, but tired of wasting time and feeling drained by facing the same dating challenges over and over, LOVE TV can help. LOVE TV's membership puts the ease and fun back into their dating and relationship building experience. Your friend deserves to create a positive love life future. At LOVE TV, we can jump start that process.
6. Introduce your friend to someone in your social network whose status is "single."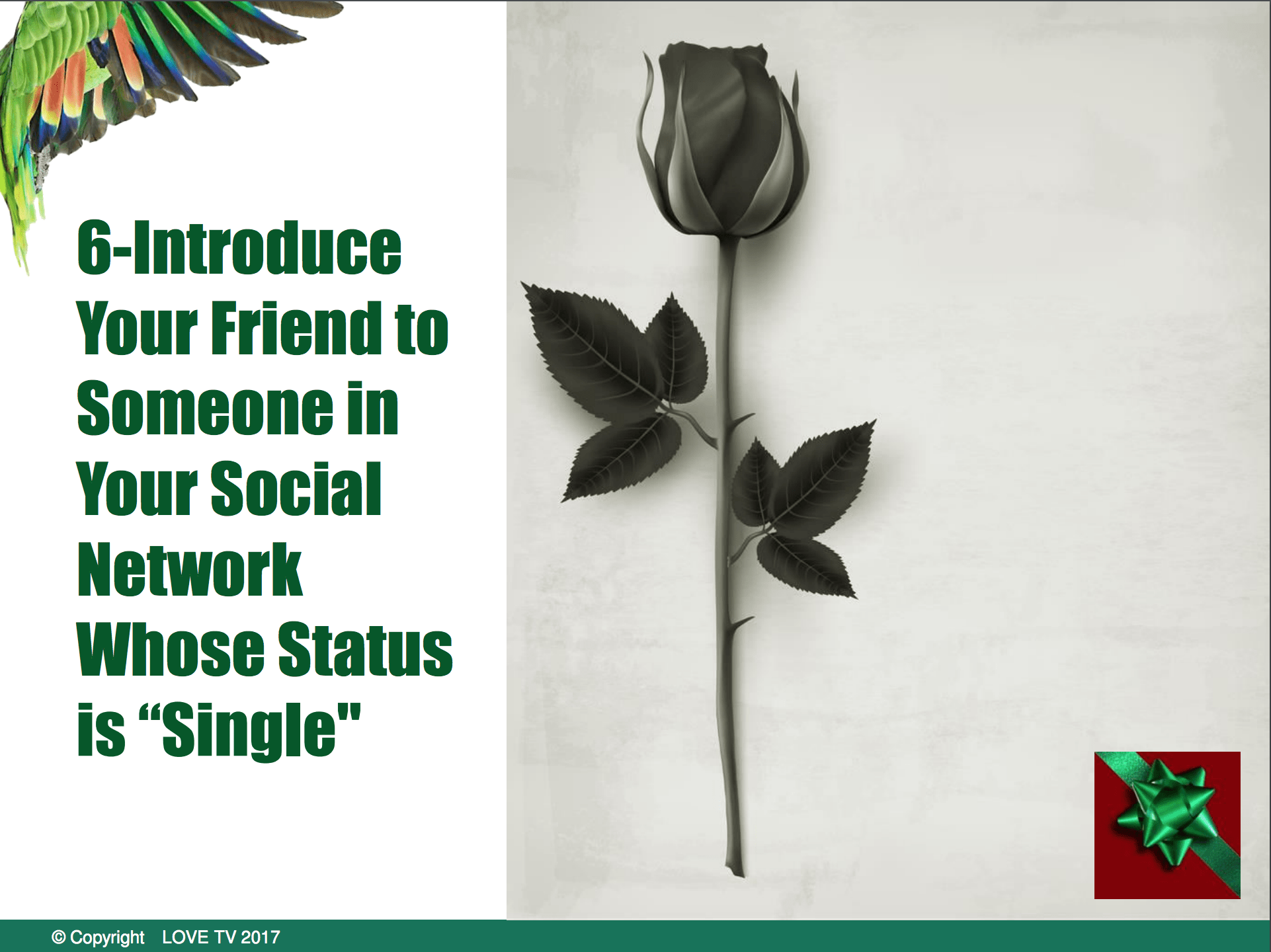 Who do you know on Facebook, Snapchat, Instagram or other social media sites that might also be single right now? Take a look through your contacts and think about who could be a good person for your friend.
7.  Let your friend know just how loveable they are.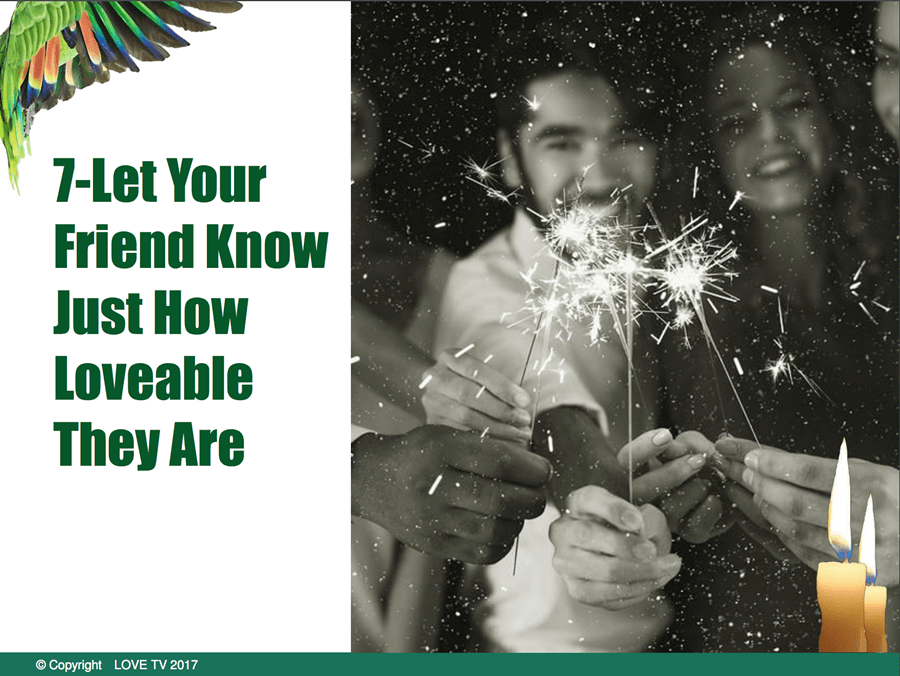 When you are single during the holidays you need your friends more than ever. Once can default into self-doubt, anxiety, and sadness over their relationship life. Do your part in helping your friend go down the love and life affirming road this holiday season.
Find ways to let your friend know why they're a special person in your life. Express how grateful you are for what they have brought to your friendship.  Help remind them what a catch they are for that special person. Most importantly, help them remember that loving themselves and especially during the holidays is an amazing opportunity to attract lots of love into their life.
Remember that we're always here at LOVE TV to help you and your friend begin their next adventure in love. We are an empowering resource and guide for moving forward and finding new ways to love again.