Last January, my anxiety landed me in the hospital. Now I know to never let it get the best of me ever again.
I've always struggled with anxiety my entire life. In grade school, I hid a birthday invitation in the back of my desk because it was a roller-skating party and I didn't know how to roller-skate. In high school, I skipped a choir concert one year because I was on a top riser and kept getting nervous about falling off while singing in front of people. I struggled with IBS my entire life. I didn't learn to drive until I was 27 because I was too scared—I still prefer not to today. All the while, I was still a happy and optimistic person. I never let on how in knots I was at times.
How I ended up in the hospital last January
My boyfriend ended up contracting a nasty cold while traveling to my parents' house to be with me for New Year's Eve 2017. Of course, I ended up getting the cold when we got back to our apartment. Afterwards, when things cleared up just a bit, I went for a massage to loosen my post-holiday tight muscles. The massage was the last in a series at an old massage therapist's office that wasn't my usual one.
Needless to say, between the massage and post-cold stuffiness, I ended up getting a terrible case of vertigo. For those who've had it before, it doesn't come often but when it does it is debilitating. I woke up at five in the morning and the room was spinning, reminiscent of my early 20s post-drinking nights. I staggered to the bathroom and instantly had to go back to bed.
I later called my parents, since my dad had suffered from a bout or two of vertigo growing up. He told me what type of medicine to get from the doctor's and my mom said it should clear up within three days.
In my typical fashion, I couldn't sit still by the third day. I was getting extremely anxious about losing piano lesson money and freelance money, since I am essentially an hourly employee. Not to mention, my boyfriend was leaving on a business trip and I'd be caring for our dog alone while still not feeling 100 percent.
My boyfriend left for his trip that Saturday and I asked my piano lessons to come to my apartment to avoid me having to take the (nausea inducing on a good day) Metro. All seemed well on the surface but I was still not feeling all that great. I was not only anxious about me not feeling well, I was worried as it was a new year—taxes were looming, I was still in debt and I'd have to endure more questions about why my boyfriend and I weren't engaged yet.
That evening, I went to get the mail down at our mailboxes then had plans to get ready to walk to church. Before I knew it, I ended up waking up on my apartment floor with my dog looking down at me, quite concerned. After phone calls to some friends and my apartment, I called my parents. They told me to go to the hospital, no questions asked. That frightened me even more, especially since I was still too dizzy to actually stand up.
I was beyond embarrassed having to call an ambulance. When I was finally on the stretcher after leaving my poor worried and barking dog, I instantly felt a lot better in the cold January air. I began to wonder if a lot of it was anxiety.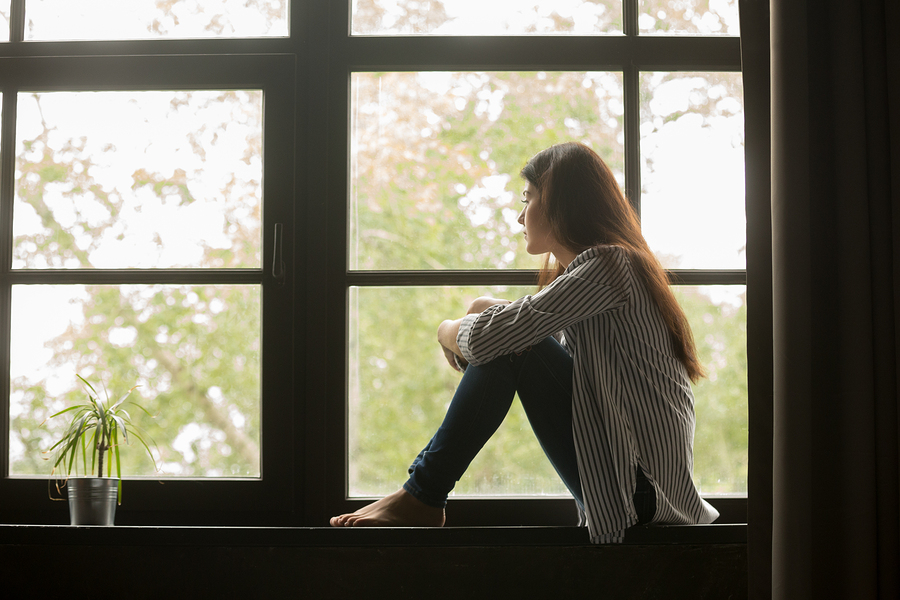 Diagnosing and getting past the stigma
After every test under the sun, I (thankfully) didn't have anything wrong with me. It was most likely fainting caused by vertigo exacerbated by a panic attack/severe anxiety. My parents picked me up from the hospital the next morning after my two best friends stayed with me until 10 the previous night. They whisked me home to Pittsburgh for the entire week afterwards.
It was there I had a "come to Jesus" moment with my parents. They asked me flat out about my anxiety—how bad it was, what made it worse, etc. They reminded me I'm always welcome home if I wanted to start over. They were happy to help me no matter what. The truth is, I am happy with my current situation freelancing and teaching piano and living with my boyfriend of nearly seven years. Would things be easier if I worked at a full-time job with a salary and benefits provided? Sure. Would things be easier if my boyfriend and I were married? Of course. I joked that I always like to take the hard way with things.
My parents recommended I see my primary care doctor and start a low dose antidepressant for my anxiety and possibly start therapy. I had adamantly denied antidepressants in the past when I was having anxiety at my full-time job—I was happy and not depressed, why would I need them?
My parents helped me realize that taking antidepressants doesn't always necessarily mean you're depressed. People with anxiety take them all the time. I reluctantly agreed and got on a low dose of an antidepressant specifically designed to help with anxiety. I was deathly afraid of any side effects, particularly weight gain, as I have always been bigger my whole life.
After almost a year on the medication, I have rarely had panic attacks or bouts of anxiety. I have gained a few pounds but the way I see it is, if my anxiety is under control, it doesn't matter. I've begun realizing how much the U.S. makes mental health such a stigma. Among the people of my generation though, we have definitely been working hard to make it less shameful. Wellness is so important.
Working toward self-love
Part of my journey with my anxiety is to learn self-love. I have gotten so much more comfortable with just saying no, especially if I don't have time for something. My IBS has gotten better through lots of meditation/breathing sessions, praying, massages (thanks boyfriend for the Valentine's Day series!) and stopping work for breaks to just get outside and get some air.
I often work through weekends and I know now if I do have a busy weekend, it's essential to spend a morning or afternoon during the week with a couple of hours to myself. I'm slowly learning to love all my quirks, no matter how big or small (anxiety included!).
As they say, the world would be a pretty boring place if we were all the same, right?
Author Kate Oczypok is working on not letting her anxiety win.
It took a trip to the hospital for author Kate Oczypok to realize she needed to address her anxiety head on—and learn a little bit about self-love in the process.
Cozy up. Did you know fall is the best time to find someone? Click here for more.