Here's how I became more comfortable with my clothes off.
I got made fun of for my body as a teen, just like everyone else. I was tall and gangly. Super awkward and never comfortable in my own skin. I was ashamed of my small breasts, of my crooked legs. Even at home, I hated looking in the mirror. I just felt so ugly, so unappealing to the eye.
While in college, I began working in the New York City comedy scene. I was super self-conscious in that community, and I never felt comfortable. It seemed like everyone was more successful and confident than I was. But one day, while working as a production assistant on a show in Brooklyn, I saw my very first burlesque act. Immediately, I was hooked.
The dancer was incredible. Her act was unlike anything I would have imagined burlesque to be. It was performance art, stripping down to nothing and writing on her body in lipstick. It was empowering to watch. I approached her after the show, as I quickly became mesmerized by her craft. I asked her about her start in burlesque, how to take classes and get involved in the scene. I told her I wanted to become more comfortable in my body.
However, she told me that to do burlesque, you need to be comfortable in your body already.
The act of asking her these questions and the idea that I could do this made me think that maybe I am becoming more comfortable with my body already. Maybe I just wanted to be confident in general. She told me they were both important.
I took her card. Immediately I went home and looked up the class schedule for the New York School of Burlesque. In that one night, I completely forgot about my dreams in the comedy world and instead focused my attention on taking my clothes off.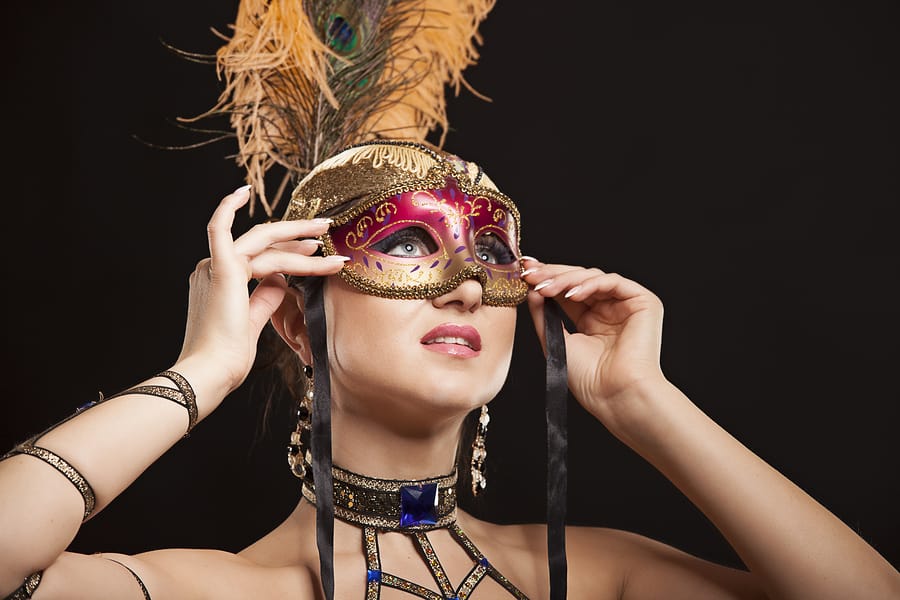 My first course was pretty much the basics of burlesque. Fan dancing, stocking peels, bump and grind, all of the essentials. At the end of it, I had put together my first act, a piece to a Gilda Radner song. My burlesque sister, who began classes at the same time as me, helped me choreograph it. My training in comedy came in handy, as it ended up being a highly comedic dance involving finger puppets.
Around the same time I was taking classes, I became involved with a "Rocky Horror Picture Show" shadowcast. I was cast as Janet, a character who spends a good two-thirds of the show in her underwear. Playing her week after week eventually got me completely desensitized to the idea of stripping in front of people, and at one point I realized I'm actually more comfortable onstage the less clothing I was wearing.
I had my first burlesque student showcase a few months after that. I did the Gilda number, and it was a big hit. My first time taking my top off onstage was a thrill I'll never forget. My fellow performers and audience members were incredibly supportive, and the praise and applause I received was unlike any other response that I had ever gotten in my years of doing theatre and comedy. I fell in love.
I found that I could be funny and sexy at the same time.
After that show I began touring all around New York. I did shows at some of the most well-known burlesque theatres. At the same time, I was doing Rocky more and more, spending most of my weekends wearing little to no clothing. I was so fulfilled.
Finally I could say I was proud of my body. Finally I could be proud of my height and ganglyness. People loved me for me, and that was more I could say about any other scene I've been a part of. I was allowed freedom in creating my acts. I found that I could be funny and sexy at the same time. And that was what I wanted to be. Personable, entertaining, and easy to look at.
Since moving to New England, I haven't been doing burlesque as much anymore. I've been focusing most of my time on Rocky and writing, but I hope to take those stripper heels and finger puppets out again one day.
For the very first time, I was unashamedly me onstage, and it was a thrill that couldn't be replaced by any other type of performing. Every performance just proves to me more and more that I am not some scrawny, awkward teenager anymore. At least not onstage.