Let's face it—winter can be long, dark, cold and sometimes downright depressing.
I've always thought the time after the holidays until the first day of spring is the darkest, most "blah" time of the year. Sometimes, you may not want to do anything but just curl up with the latest Netflix show to binge and call it a night. If your sex life seems to be lacking when it gets chilly outside, music can sometimes do the trick.
Here are 15 sexy songs to get you in the mood and beat those winter blues.
Sample lyric: "I know I don't know you, but I want you so bad."
This song has been on my sexy playlist for as long as I can remember. You can't beat Adam Levine at his most raw. Not to mention, the steady rhythm is perfect for a serious bump and grind session.
Sample lyric: "Oh baby what you've done to me, you make me feel so good inside."
I first discovered how sexy this song was when I saw The Big Chill when I was about 13 or 14. There's nothing like Aretha's soulful voice to get you in the mood. Play this during a candlelit dinner to get things started.
Sample lyric: "Only bought this dress so you could take it off."
Don't laugh at me for this one! Taylor has grown up. Long gone are the oversized glasses and t-shirts. Enter the era of sophisticated snake necklaces and lots of black leather. Taylor has been dating British actor Joe Alwyn for awhile now and it shows—this is one of her sexiest songs to date.
Sample lyric: "She said, 'Hello, hey Joe, you wanna give it a go?"
This super fun 2001 remake is a great bop to get ready for a sexy date. It's fun to dance around in lingerie, to prep yourself for a fun and sexy date (confession: I've done this more times than I can count!).
Sample lyric: "And I'll hold you tight baby all through the night."
Nothing like a classic Boyz II Men jam to get you feeling ready for some serious between the sheets action. The 1994 song was most likely your first makeout song or perhaps even what was playing during your first time.
Sample lyric: "If you're horny, let's do it, ride it, my pony."
The blush-worthy lyrics are just begging for a striptease from your significant other. Have your partner channel their inner Magic Mike and deliver a sizzling performance to get you feeling extra sexy.
Sample lyric: "And I've been waiting for this moment for all my life, oh Lord."
The drum break in the middle of the song is just as orgasmic as the real thing. Play this one for a new flame when you just can't wait to get it on.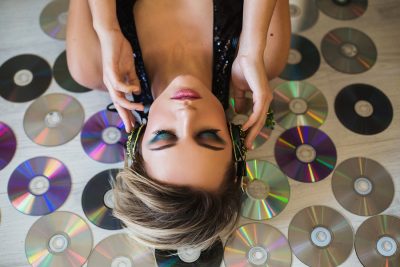 Sample lyric: "Hey big woman, you made a bad boy out of me."
For all my fellow curvy ladies, this one always bumps up my confidence a few notches and makes me feel ultra-sexy.
Sample lyric: "You make me wanna, leave the one I'm with, start a new relationship with you."
I am by no means advocating cheating, but the late '90s smooth jam is extremely sensual. We've all had that friend we've wanted to be something more—if anything, this is a great one to listen to on your own, if you get my drift!
You can't beat a vintage Etta James tune, especially one of her finest. Save this one for Valentine's Day, it's just begging for a striptease.
11. Solomon Burke, "Cry to Me"

Sample lyric:
"Well here I am, my honey, c'mon baby cry to me."
Any Dirty Dancing fans will remember this song as the big (spoiler alert!) sex scene between Baby and Johnny. The movie's producers picked it for a reason. It automatically makes you think of making love on a hot summer night.
The iconic Ghost scene made this song what it is today—the OG sexy song. It's tender opening notes are perfect for a cozy night of lovemaking with your longtime partner.
13. Jeremih, "Birthday Sexy"

Sample lyric:
"See you sexy in them jeans got me on ten."
Jeremih celebrates the most special sex of all—the kind you get on your birthday.
14. Beyoncé, "Partition"

Sample lyric:
"He bucked all my buttons, he ripped my blouse, he Monica Lewinskyed all on my gown."
Everyone can relate to keeping private what goes on behind closed doors. Beyoncé just lets us in for a peek and it's sexier than ever.
15. The 1975 "The Sex"

Sample lyric:
"
But if we're gonna do anything we might as well just f***"
The 1975 talks about getting it on in the back of a van with this one. If anything, it will make you reminisce about trysts in the back of your parents borrowed car in high school.
Sex is better with some music. Beat the winter blues with these deliciously sultry tunes.