With holiday season upon us, we were interested to know just how different the sex we're having on vacation is, compared to the sex we have at home. Whether it's the weather or the break in routine, we set out to discover how couples respond to each other on holidays, and if they're really having more sex or not.
We set up some polls on twitter, and it turns out, perhaps unsurprisingly, that most couples do have more sex on vacation, with 100% of the people we asked saying that they spend more time having sex on holiday than they do at home. The people we additionally asked in person weren't quite as sex-driven on vacation, but the majority said that yes, they did have more sex away from home. We wanted to know why, too: 33% thought that the reason was that they are more relaxed on a trip, and 40% found a break from their usual routines was the biggest contributor. Another factor was the amount of time couples spent together; whereas at home they were distracted with work and family commitments, a holiday was a solid amount of time spent together, and so there's more opportunity for having sex.


Routine, it's frequently said, is the killer for most sex lives. We go to work, we go home, we go to sleep. Once we add in a few nights out with friends, or visits to see family, there's not much time left over, and sometimes quality time with a partner slips on the list of priorities. Taking a vacation as a couple can be a good time to remedy that. A loss of libido can have many different causes – find some natural ways to boost yours here.
For the few who said that they had less sex on holiday, it was mostly due to the proximity of family members, and we get it. Sharing a holiday rental with your in-laws is probably not going to turn you on. If you're in a situation where penetrative sex isn't an option, here are some intimacy techniques to try.
Activity-based holidays were a factor too. Sharing hobbies is a great way to reconnect with a partner, but sometimes, you just want to sleep, especially if you've spent the day hiking, or if you're in a cramped tent adventuring somewhere in the great outdoors.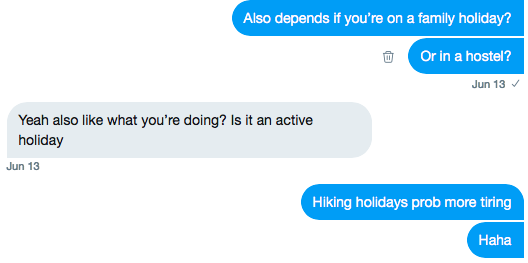 But what about a different kind of holiday adventure? Most people we asked (71%) didn't have (or didn't want to have) more adventurous sex on holiday — they said that they would rather be in their own homes, especially if they were planning to try something completely new. But some said that a vacation is a good excuse to try out more adventurous sex, especially if the trip was mostly for relaxing, with no family or activities around. "For me, this totally depends where we are and what kind of holiday we are on," was one response.
Shaking up your sexual style totally depends on the relationship you have, and how comfortable you are with being more adventurous away from home plays into that. Your hotel room might have some opinions about you installing a swing, but a lazy vacation can be a great time for trying out new toys. (Don't forget that lithium batteries can't go in your checked baggage!) If roleplay is your thing, being in a new setting can give you some inspiration.
Finally, solo vacationers were sometimes having more sex too – though the kind of holiday had the most impact. A boozy beach week away with friends was more likely to end in hooking up than a culture soaked city break.