11. Tallinn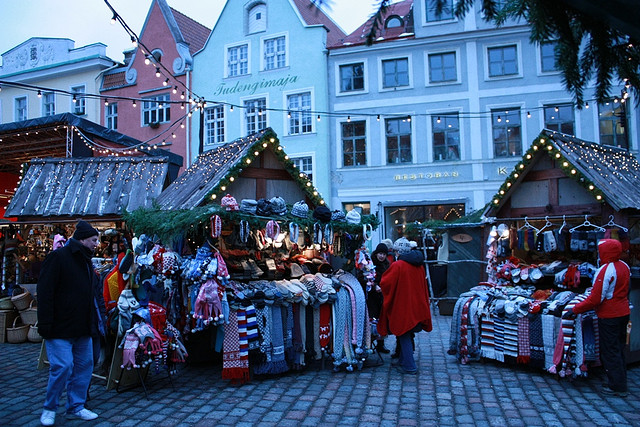 For a unique Christmas away from the crowds of Western Europe, there's plenty of Christmas spirit on offer in the Estonian capital.
Tallin
's medieval old town is dusted in snow, with nighttime lanterns giving atmospheric glow to the cobblestone streets. It was here, back in 1441, that the world's first Christmas tree was erected and holiday traditions still include the legendary tree on Town Hall Square. Classical concerts, an international Christmas market, an outdoor ice rink and the Estonian Open Air Museum's elaborate Christmas Village are all mainstays of the holiday season.
Photo credit: Jaanus Silla via Flickr.
12. Prague
A city of stunning gothic architecture and quirky folkloric traditions, Christmastime inPrague is unlike any other. Even the city's renowned Christmas markets bring a touch of local traditions, with giant hams spit-roasting in the town square, choirs singing carols by candlelight, wooden huts selling hand-painted ornaments and local handicrafts, and ladies in traditional dress frying trdelník – sugary Czech pastries. There's even a stable in the Old Town Square, with sheep, goats and donkeys set around a traditional nativity.
Read more about Christmas in Prague
13. Montreal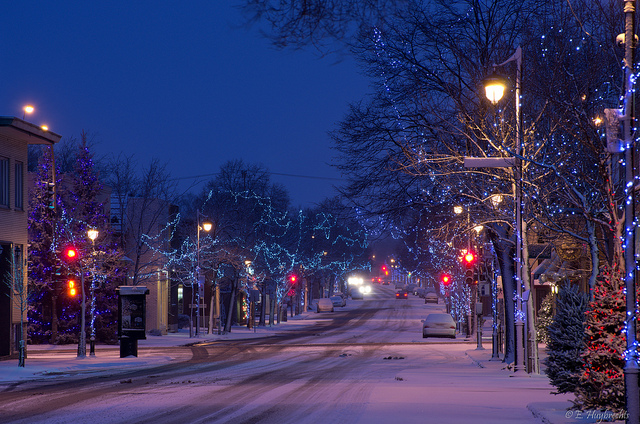 Montreal
's strong French influence brings a European feel to the Quebec metropolis and the island dazzles with Christmas cheer in the winter months. The annual Santa Claus Parade, a tradition dating back to 1925, and the French-themed Défilé de Noël festival, both see the streets lined with colorful floats; ice skating rinks and Christmas fairs pop up all over the city; and weekly fireworks light up the night sky from the Old Port. Best of all are the French-inspired foods – candied chestnuts, buttery pastries and mugs of steaming hot chocolate.
Book a Christmas tour in Montreal and read more about Christmas in Montreal
14. Chicago
Midwesterners know a thing or two about celebrating Christmas and Chicago is a hub of wintry fun in the holidays. Take in the famous Macy's Christmas tree and animated window displays; practice your ice skating moves in Millennium Park; walk the Magnificent Mile where an incredible one million lights adorn the shop windows; and check out the Museum of Science & Industry's incredible 'Christmas around the World and Holidays of Light' exhibition, with it's falling snow and forest of tinsel-draped Christmas trees. The biggest event of the season is the traditional German-style Christkindlemarket, where a Santa House, tree lighting ceremony, carol concert and lantern parade provide plenty of entertainment and vendors sell food and wares from around Europe and America.
Book a Chicago Christmas tour and read more about Christmas in Chicago
15. Alaska
If you're after a guaranteed white Christmas, Alaska is the perfect choice, with a packed schedule of winter carnivals, dogsledding races, ice carving competitions and community snowshoeing expeditions. Head to the North Pole, where the entire town is a festive dream – wander down the magical Santa Claus Lane where even the streetlamps look like candy canes; meet the 'World's largest Santa', a 42-foot statue; feed carrots to Santa's reindeer and snap a photo in Santa's sleigh. Of course, don't forget to visit the Santa Claus House and pay your respects to the bearded fellow himself.