Sure, going to a fancy bar is fun and all but there's something adventurous about making cocktails at home.
I've always loved strong, traditional drinks like martinis and manhattans. My boyfriend on the other hand prefers sweeter cocktails. I was inspired to compile a list of delicious cocktails with sexy names that look and taste equally sexy and yummy.
Here are 10 of the sexiest cocktails to get you in the mood.
1. The French Kiss
Remember how risqué French kissing was in junior high? Relive those innocent times with this cocktail.
Recipe: 1 oz. gin, ¾ oz. St. Germain, ¼ oz. Aperol, ¼ oz. lemon juice, top with sparkling rosé and garnish with an orange twist.
Best for: cozy snuggling at Netflix, role playing your junior high days in your old uniform skirt
2. The Hanky Panky
The name of this cocktail speaks for itself. The strong and vaguely citrusy flavor will get you relaxed and feeling sensual.
Recipe: 1.5 oz Martini Rosso vermouth, 1.5 oz. Bombay Sapphire gin, garnish with an orange peel. Stir ingredients in a mixing glass, strain into a chilled martini glass and then garnish.
Best for: before a night out with the girls, a fancy dinner at home with your significant other
3. Between the Sheets
Remember the best sex you ever had? Channel that feeling again with this tantalizing beverage, a take on the classic sidecar.
Recipe: 1 oz. white rum, 1 oz. triple sec,  ¼ oz. lemon juice, 1 oz. cognac. Shake the rum, triple sec, juice and cognac with cracked ice then strain into a chilled cocktail glass and garnish with an orange peel.
Best for: sipping after a romp between your own sheets, making before a fancy party with your significant other.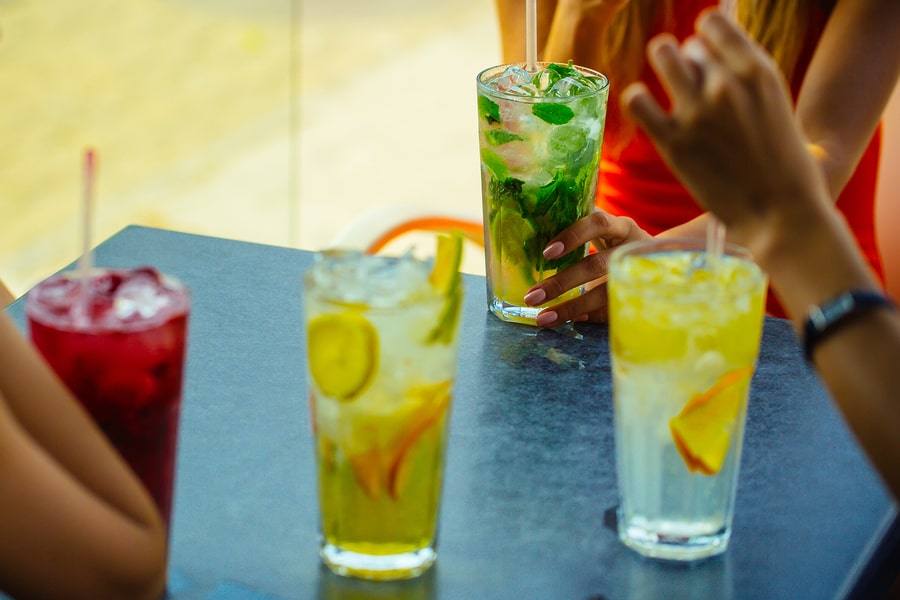 4. Afternoon Delight
If you've ever fantasized about leaving work in the middle of the day for a long lunch—and dessert in the form of a quickie—then mixing up this drink is a great idea.
Recipe: 3 oz. Bacardi 151 rum, 3 oz. Southern Comfort peach liqueur, 16 oz., cranberry juice, 16 oz., Gatorade, 2 oz. ginger ale
Best for: actually leaving work early for a little "afternoon delight."
5. The Full Monty
If bums are your thing, you'll want to celebrate your love of them with this cocktail.
Recipe: 1 measure Smirnoff vodka, 1 measure Galliano liqueur, cracked ice and grated ginger or gingseng. Shake the vodka and Galliano over ice until it's well frosted. Strain into chilled cocktail glass and sprinkle with ginger or ginseng.
Best for: before shaking your bottom at the club, dancing in front of your mirror while getting ready.
6. Amaretto-Cranberry Kiss
The nostalgia, romance and sexiness of the holiday season are rolled into one with this drink.
Recipe: (makes 8 cocktails) 2 cups cranberry juice cocktail, 1 cup vodka, ½ cup amaretto, 3 tbsp. Orange juice, ice cubes and clementines, peeled and separated into segments
Best for: being paired with your favorite red dress this holiday season.
7. Strawberries & Cream
This cocktail is meant to be enjoyed poolside in your favorite bikini with your partner. The drink is crisp and refreshing.
Recipe: 2 oz. strawberry vodka, 1 ½ oz. whipped vodka, 2 strawberries, thinly sliced (+ more for extra garnishes), soda water. In a shaker, add ice and both vodkas, shake and set aside. Uddle the strawberries and then fill the glass with ice and top of vodka. Stir gently and garnish with an additional strawberry.
Best for: summertime soireés, after-hours skinny dipping with your love.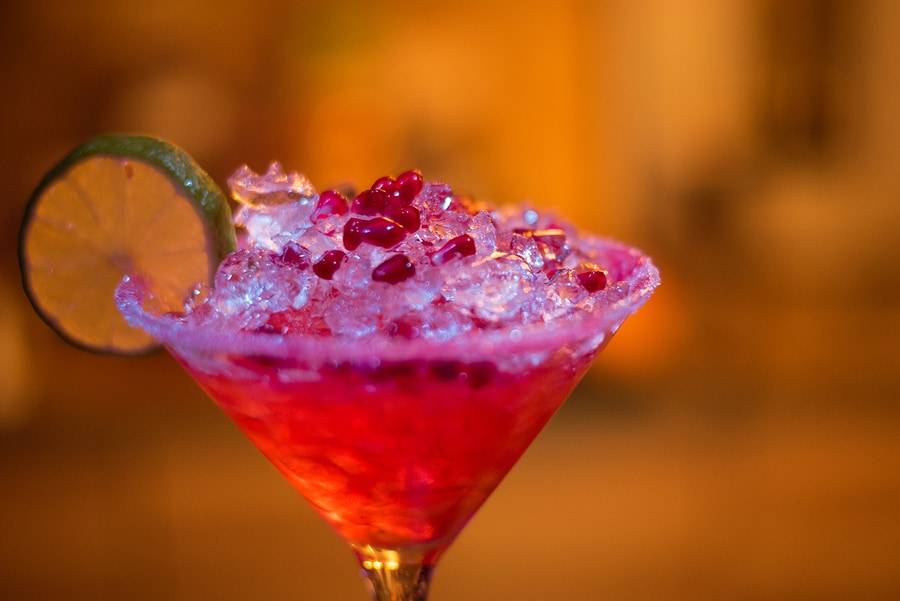 8. Vanilla Old-Fashioned
Sometimes good old vanilla sex is just what you want. Adding a tasty matching cocktail makes things more fun.
Recipe: ¼ oz. simple syrup, 3 dashes Angostura bitters, 3 dashes orange bitters, orange peel twist, 1 ½ oz. vanilla whiskey. In an old-fashioned glass, combine the simple syrup and bitters. Fill glass halfway with ice, then stir. Add enough ice to fill the glass then squeeze an orange peel over the glass to extract oils, add peel to the glass then add whiskey. Stir just until the drink is cold and serve.
Best for: Good old-fashioned vanilla sex with your partner, a nightcap.
9. Sweet Orange + Tequila Cocktail
The first sign of spring and warmer weather always gets everyone in the mood. This equally sweet and strong cocktail is the perfect way to ring in sunnier weather.
Recipe: 1 oz. triple sec, 1 ½ oz. 1800 Blanco Tequila, 2 oz. orange juice, 3 oz. tonic water, navel orange slice, ice. Put triple sec, tequila, OJ, tonic water and ice into a cocktail shaker. Stir with a long-handled bar spoon. Strain into a chilled margarita glass filled with crushed ice. Garnish with a slice of navel orange.
Best for: that first dinner on the patio together, making out under the stars on a warm night.
10. Bit of Tongue
Surprised and a bit turned on, there's always that first time your new boyfriend or girlfriend and you are making out and they slip you a bit of tongue. This drink recreates all that uncertainty and excitement.
Recipe: 1 oz. aperol, ¾ oz. grapefruit shrub, 1 bar spoon of Copper & Kings absinthe superior, cava to top.
Best for: the first time you invite your new boyfriend or girlfriend over for drinks.
Cocktails taste even better when you make them yourself. Get in a sexy mood with these 10 drinks.