On a mission to set my marriage up for success, I've made a plan to bring Valentine's Day to every month.
I've always loved Valentine's Day.
As a kid, I always looked forward to collecting paper Valentine's Day (especially the ones that came with candy or temporary tattoos). As I got older, I loved going out for special dates and getting spoiled with gifts or flowers. Plus, no matter what my age or relationship status, I've always looked forward to the day after Valentine's Day when I can score all the half-priced candy.
All around, it's a good holiday in my book.
And yet, I'm always left wanting more. Not to say that the holiday is disappointing, but I wish that Valentine's Day didn't end so quickly. I want to celebrate my relationship, and have an excuse to do something special, all year long.
This year is my fiancé and my last Valentine's Day as a unmarried couple, and as our wedding gets closer, we want to do everything we can to set our marriage up for success. So, we've been focusing on bringing the spirit of Valentine's Day to every part of the year and practicing showing each other love whenever we can.
Boy, has it made a difference! It's amazing what a small gesture can do, and how easy it is to make your partner's day. It brings you closer together, makes you feel warm and fuzzy inside, and reminds you both of how much you love each other.
Here are some ways that you too can bring Valentine's Day to every month:
1. If your partner likes flowers and chocolates… buy them more often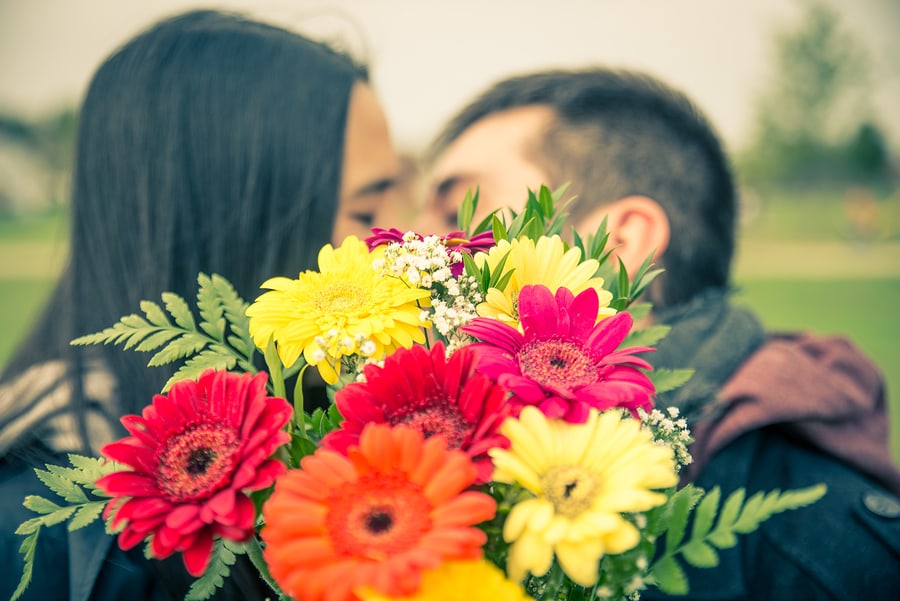 Last year, I made a point to make pies during the Summer. Why? I love pie, and I realized I hadn't had a slice for months. I only thought to buy or make pies during November and December, because I thought of them as a "holiday only" dessert.
I had ten whole other months to enjoy pie that I wasn't taking advantage of. And that's just silly.
It's the same thing with Valentine's Day.
Every year when February hits, stores stock up on their flowers and chocolates. It's always fun to see the heart-shaped candies and beautiful roses in vases, but we shouldn't be waiting for February to get our partners some chocolates or buy them flowers.
If your significant other likes those chocolate turtles (don't we all?), surprise him or her with a box of them any time of the year. If your honey loves fresh flowers, you've got a whole 12 months to buy them. Plus, different flowers will be in season at different times, so you can bring home a different bouquet every time.
I love dark chocolate, and it means so much when my fiancé brings some home just because. It's a nice way to say he was thinking of me and getting a special treat always makes me happy.
Okay, okay, I'll admit: some things are strictly seasonal. You'll have to wait for that pumpkin spice latte and it's hard to find peppermint bark in June. Just don't miss out on an opportunity to surprise your sweetie with a special treat he or she loves.
2. Valentine's cards aren't just for February, share your thoughts whenever you can
I love Valentine's Day cards. They're cute, romantic, and sometimes a little dirty.
Giving your partner a card on Valentine's Day is nice, but it might mean even more when you give them one out of the blue. Surprising your love by writing some nice things in a card and slipping it into their bag before work, or packing it with their clothes before a business trip, can go a long way.
It's sweet, flirty, and could really brighten up their day. Play with the idea of getting a few romantic cards during the Valentine's season, and using them all year. You can write a funny poem, list some things you love about your relationship, or write something sexy. It's sure to make your partner feel special and appreciated.
Not into the card idea? Maybe stick to text. I'll never forget the time my fiancé sent me some photos he'd taken of flowers in a garden, saying he was thinking of me. It was such a simple thing, and only took a minute to do, but it really brightened my day and reminded me of how much he cares about me.
3. Plan romantic date nights all year round
My fiancé and I are so busy with work, grad school, and life in general, that our date night dinners usually turn into scarfing down Chipotle in front of the TV before going to bed.
Oh, the romance.
You don't have to wait until February (or you anniversary) to have a special meal together. Make a plan to have those romantic date nights on non-holiday times.
When my fiancé and I want to have a romantic meal, we love going to this cute little Greek restaurant down the street. But don't assume that you have to go out to have a good time. You can stay home, dim the lights, pour some wine, and even light some candles.
If you and your honey work late or have kids, downsize the same idea to a late-night dessert. Even with less time, you'll get the same benefit. You'll spend some uninterrupted alone time together and get a chance to turn up the romance.
4. Breakfast in bed isn't just for special occasions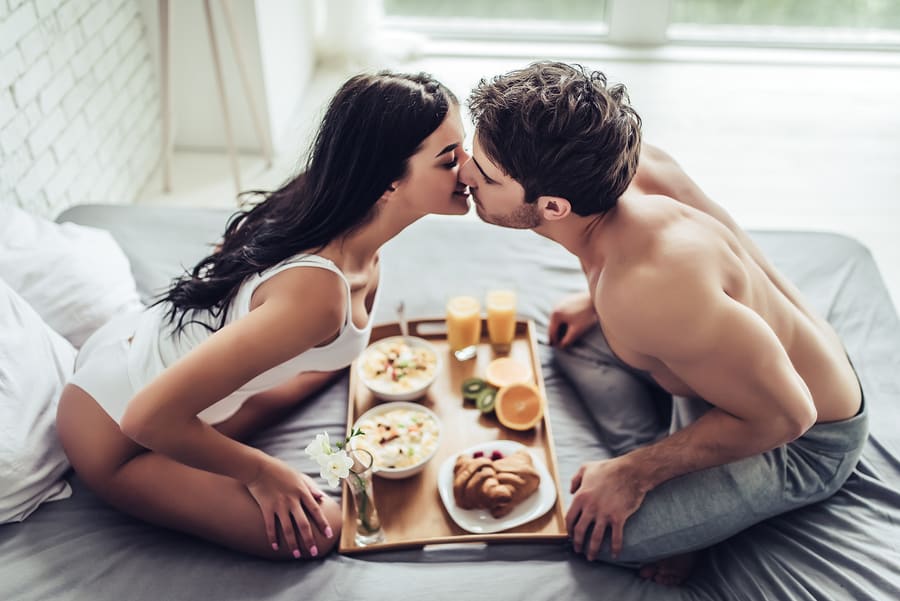 Speaking of meals, I love breakfast in bed. It's one of those Valentine's Day traditions that should really be an "everyday thing." Yet, somehow, most of us have to go to the kitchen for breakfast every single day. Exhausting.
Make one day a week (or maybe one morning a month) a "breakfast in bed day." It doesn't have to be a big deal: toast a couple slices of bread, scramble some eggs, pour that coffee, and share it with your honey in your room. It could make a lazy Saturday the best day of the week.
Or, if you're not sure you can get out of bed in the morning without waking your light-sleeping cutie, plan a stay-at-home breakfast date. I love to put on my cute pajamas, slip on those bunny slippers, and make breakfast with my fiancé.
You can flip pancakes while your honey squeezes orange juice, then sit down to watch some saturday morning cartoons. It's a nice way to relax together, and this special date is the perfect way to show you care without breaking the bank.
5. Give "just because" presents
There's always pressure to give gifts at holidays or anniversaries, but I find that the more I expect to get gifts, the less I really enjoy them. I already know I'm getting a present, so when it's not exactly what I want, I might feel a little disappointed, rather than thankful, like I should.
And yet, whenever my fiancé brings home a DVD of a movie I wanted to see but missed in theaters, or orders me a funny cat t-shirt off Amazon, I'm always amazed and incredibly grateful. I wasn't expecting anything, so even the smallest, silliest thing will seem so sweet.
Surprise your cutie with a little something every now and then, it doesn't have to be much: maybe just grab a trinket the next time you're in Target or buy a magazine you think your partner will like when you're at the grocery store. A little can go a long way, and it tells your special someone that you were thinking of them, which makes it even better.
6. Walk down memory lane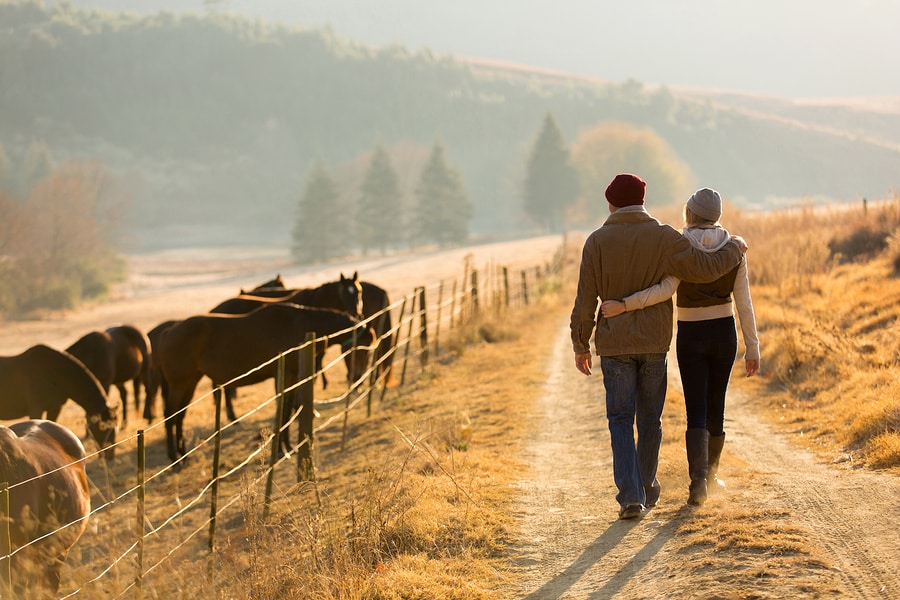 Sometimes we forget to appreciate each other, and all the things we've done together. Bringing up a fun date night or looking at some old pictures can really spark those romance vibes and remind you of fun memories.
I like to surprise my fiancé with a framed picture from a special day or even just share a post on Facebook from this time last year. Looking back on memories you've shared can make you both feel especially appreciative of your relationship.
7. Plan an event
You don't need to wait for a special day to plan an event. It's popular to buy tickets for a show or concert to celebrate Valentine's Day, but there are fun events going on all year.
Planning an activity is a nice gesture that tells your partner that you want to do cool things with them, and it's a great way to bond over memorable experiences.
My fiancé and I love seeing comedy shows, so we're always on the lookout for when our favorite comedians are coming to town. It's so much fun to go out and do something extra special once in a while, and we get to share something we both love.
Of course, not everyone's bank accounts will allow for an event every weekend, but getting tickets to a midnight movie or concert a few months in advance will give you something to look forward to together, and that's half the fun.
8. Remember to listen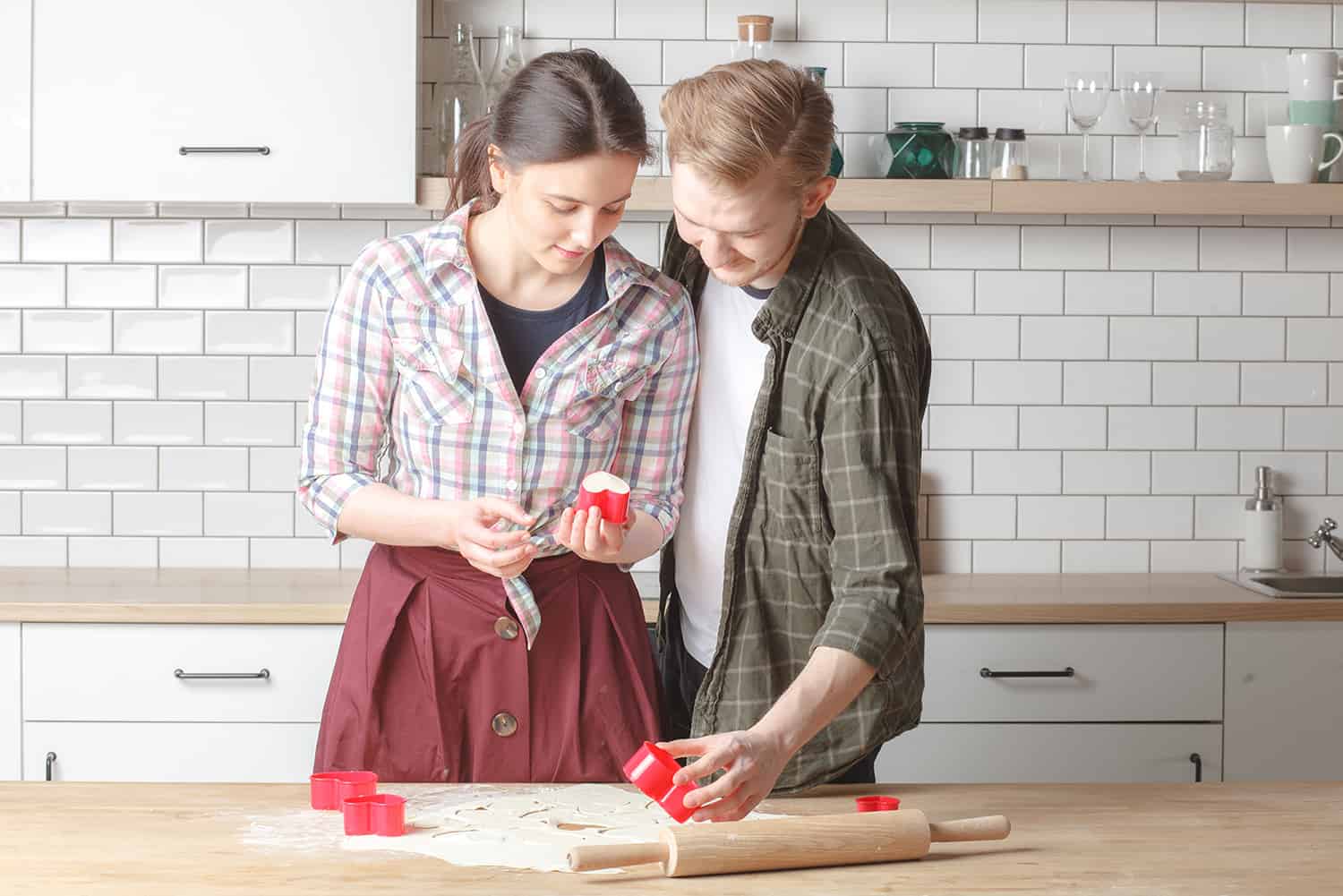 While little surprises and kind gestures will go a long way, communication may be the most important thing in your relationship.
I always try my best to show an interest in what my fiancé says, because I know how important it is to feel listened to.
There's nothing more romantic, and nothing that will show how much you care, more than listening to your partner. Focus on their stories, ask questions about their day, and take care to remember what they talk about so you can ask about it later. Showing how interested you are in their successes, and their challenges, will mean so much to your beau, and will help your love thrive.
Because I always have so much fun on Valentine's Day, I use these practices to bring the Valentine's Day spirit to my relationship, and soon, my marriage, all year long. Hopefully some of my tips will help you and your partner to show your love all year round too.
Need some more ideas for Valentine's Day? Check out 17 Ways to Spice Up Your Valentine's Day if You're Tired of Flowers and Candy, How To Show Love By Making a Difference This Valentine's Day, or Perfect Bedroom Tips for Valentine's.