Looking to spice it up this holiday season? We've got some perfect sexy date ideas for you.
The holiday season can be a hectic time of year. Take some time out for your significant other and yourself and enjoy these super sexy dates.
Here are just some ideas on how to make this holiday your sexiest yet.
1. Dinner and a striptease.
Make a cozy dinner together at home with some known aphrodisiac foods. When you're done, surprise your partner with a sexy striptease with a holiday twist. Santa Baby or better yet, Jingle Bell Rock with the "Plastics" outfit from Mean Girls anyone?
2. A winter workout.
Go for a frosty hike or some old-school sledding. Your flushed cheeks and having to grab on to your guy or girl will be sure to ignite some "warming" up by the fire later.
3. Visit a cozy bar.
Curl up by the fireplace at your favorite cozy bar and get extra cuddly as you sip cold weather cocktails like a Manhattan or hot toddy. All that cuddling in public will inevitably lead to some private fun at home.
4. Take a bubble bath together.
Take an extra soapy, hot bubble bath together. Light some candles and play some smoky, jazzy holiday music (Diana Krall's "Christmas Songs" is a great pick). It's your call as to what goes on below the bubbles.
5. Have a snowball fight.
Think about when you were younger and how you flirted by chasing after boys on the playground. Having a snowball fight is a fun and flirty precursor to some seriously hot sex later that night.
6. Bake holiday cookies.
I find baking seriously sexy. Why? Think about how much fun you can have as you make cookies–licking icing off each other's fingers, flinging flour at each other, kissing lips that taste sweet. Yum.
7. Take a ski weekend.
Go skiing for a weekend together. If you aren't much of a skier, settle in the cabin's hot tub with some bubbly and get ready for steamy seductive fun.
8. Take a couple's massage class.
Sign up to take a couple's massage class and learn all the techniques that make your partner swoon. There's nothing like a good massage as foreplay to get you in the mood.
9. Role play—holiday style.
Tongue and Cheek role play together with a holiday theme. Maybe you're two people in an airport who meet over drinks when their plane is delayed and end up joining the mile high club. You could be home alone while your significant other is traveling for the holidays.  Your SO role plays as your neighbor who fulfills your needs just at the right time.
10. Eat a fancy dinner out—and get a little handsy.
Go for a holiday dinner out to a fancy restaurant in town. Get a little kinky under the table with your hands while you wait for your main course to arrive. The thrill of potentially being caught is enough to keep you going for a long time.
11. Watch holiday movies—in your underwear.
Netflix your favorite holiday movie and get cozy in bed or on the couch. Don some sexy lingerie and reindeer antlers and have your guy put on boxers and a Santa hat. See how long you actually watch the movie.
12. Play your favorite childhood games, with a dirty twist.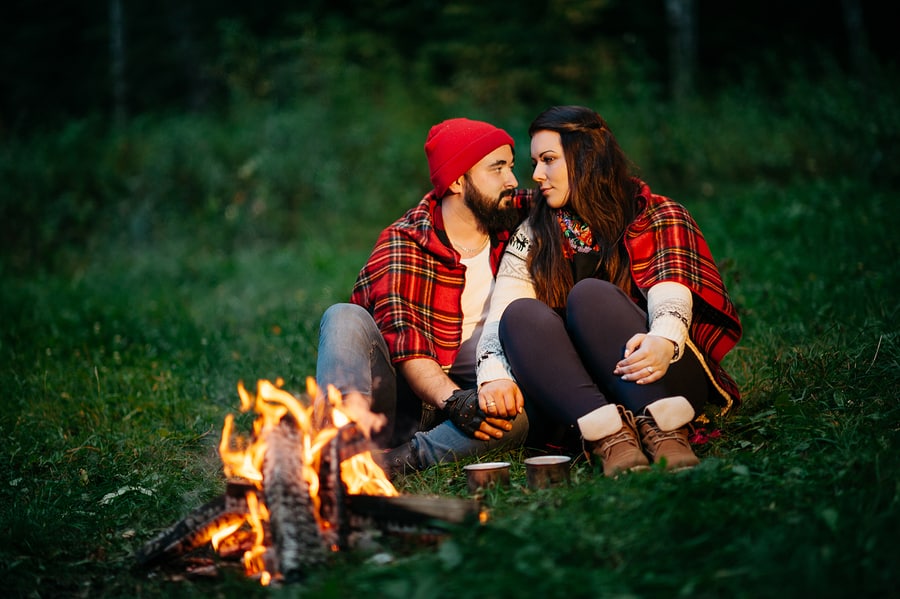 Heat up some hot chocolate, light a fire and snuggle by the tree. Think of steamy games you played growing up and make them extra racy. Ideas include strip poker or sexy truth or dare. The possibilities are endless!
13. Attend a tree lighting.
Your city or neighborhood tree lighting seems innocent enough right? Not when you make out during the ceremony. Chances are the tree won't be the only thing lighting up as you two make merry.
14. Get a quickie in during your work's holiday party.
If you're headed to your significant other's work party this season, sneak off during the festivities for a quickie in the bathroom or an office. You'll be sure to spice up an otherwise boring holiday party.
15. Volunteer.
There's something positively sexy about doing some good, isn't there? Volunteer at your favorite organization this season and when you're done, chances are you'll feel ready to have a romp in bed when you get home.
These sexy holiday dates will surely get you in the mood this festive season.
Skip the boring old dinner and a movie. Take any of our 15 sexy holiday date ideas and get ready for some seriously hot fun. From dinner and a striptease to an extra fizzy bubble bath, there's something for every couple to try this holiday.
If you want some advice on how to make the most of your holidays together, check out these romantic relationship tips for the holidays.