Everyone always teases me about how much I love tradition. 
I think that's partly why I am so thrown by the fact that my boyfriend and I decided to stay home for Thanksgiving this year. While I was sad about it at first, it was exciting in a way to create our own little family traditions. This got me thinking about starting holiday traditions with your significant other.
That being said, here are 10 ways to create lovely, sexy traditions with your partner this December.
1. Attend your neighborhood tree or menorah lighting.
Many communities host a neighborhood tree or menorah lighting. There's nothing more romantic than sharing a kiss during a countdown to light hundreds of twinkling lights. Bonus points if snow starts falling making for some wholesome Hallmark Christmas movie-esque fun.  Visit your local city council or community page online for more details. 
2. Make sexy stockings together.
This is definitely for when the kids are NOT around! Making sexy stockings is a two-parter—first, innocently decorate your stocking. Use glitter, buttons, sequins, you name it. Next, give yourselves a week or two to acquire all of the sexiest items you can stuff in there—bras, condoms, vibrators, sexy Christmas boxers (they're a thing!), you name it. Open them together and watch for the reactions that will have you in the bedroom all night long.
3. Bake Christmas cookies or challah bread together—with a twist.
Sure, baking Christmas cookies or challah bread together is innocent enough. Have you ever done it in your underwear though? Bring on the ultra sexy when you lick off some spilled icing right there, or playfully throw some flour on your partner's nose before you go in for a kiss. 
4. Decorate your Christmas tree, then make love underneath it.
Did you ever decorate your tree as a kid, then lay underneath it, gazing up into the glittering lights above? This is the adult version. Decorate your Christmas tree and once you're done, lay out your coziest blanket and cuddle together underneath it. Who knows, the romance of it all could lead to some serious lovemaking.
5. Do adult versions of Elf on the Shelf.
This one is just plain funny and best if you don't have any children (or keep it to your bedroom only). Each night or morning while your partner is busy getting ready for work or sleeping, etc. take an Elf on the Shelf doll and make it do something not suited for young eyes. Mr. Elf could be getting it on with Barbie, an Elf on a makeshift stripper pole or an Elf in bed with another doll. This is especially great for couples who love making each other laugh.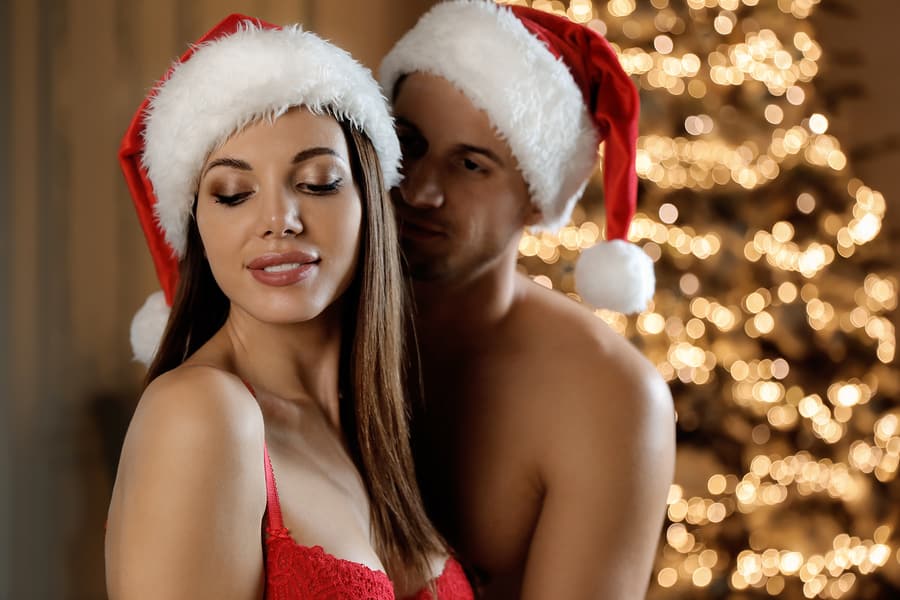 6. Leave naughty or nice notes around the house.
Leave notes around the house for your significant other to find. They can be nice, with compliments that are sweet like "You have the most gorgeous blue eyes," or naughty, letting them know what you plan to do in bed that night. Have fun leaving them all over the house, from the bathroom mirror to their sock drawer and more.
7. Celebrate Saint Nicholas Day.
If you ever got to celebrate Saint Nicholas Day as a child, it was fun to leave your shoes out for "Saint Nick" and get candy and small toys the next day. Take this tradition and give it an adult twist by buying the sexiest lingerie for yourself and leave it tucked in your partner's shoes. Let them know that Saint Nick thought they were a good boy or girl so you'll be wearing just the lingerie when they get home that night.
8. Do some Christmas movies and chilling.
Just like Netflix and chilling, have your loved one and you each pick your favorite holiday movie. Make some popcorn, mix some cocktails and have a cozy and romantic night in. If you have a fireplace, put that on too (I'm jealous if you do!).
9. Do a 12 Dates of Christmas, getting progressively naughtier with each one.
The seemingly never-ending song can get a sexy twist this holiday season by sitting down with your partner and creating the 12 "dates" of Christmas. Pick 12 things to do this holiday season and get progressively naughtier with each one. You could start with going out for hot chocolate and strolling around your neighborhood to see the lights to getting handsy in a movie theater during a showing of the latest holiday movie and many more.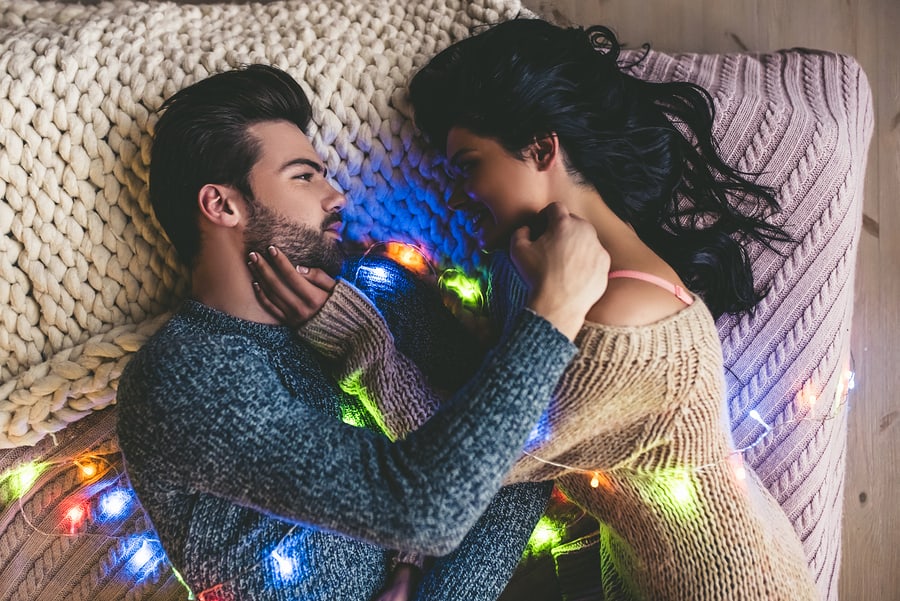 10. Build gingerbread houses together.
Building gingerbread houses together is a fun and simple way to enjoy each other's company. By sitting down for a long period of time and putting something together is a good way to learn about how you work as a team. This is also a great tradition for newer couples, as it's an enjoyable way to get to know each other.