Financial questions to ask your partner at every stage of your relationship
It's no secret that money can cause tension in a relationship. Couples clash on spending, debt, and financial philosophies all the time. That's why it's important to talk about finances with your partner often and make sure you're on the same page.
The only problem is that talking about money can be stressful for a lot of people.
Some might be embarrassed about their finances and have a hard time opening up. Others might think that talking about money is unpleasant, so might avoid the tough questions.
While leaving some things to the financial imagination is okay at the beginning of a relationship, as you start to get more serious with a partner, it's important to know their financial background (and spending habits) and it's important that they know yours too. Together, you'll create a good foundation for understanding and be able to help each other reach financial goals.
To help start the conversation, here are some questions you should ask your partner, and yourself, at each stage of your relationship.
1. Just dating: What do you like to spend money on?
Everyone has at least one hobby or interest that they probably spend a little too much on.
For me, it's education. I will drop serious cash on classes and books and conferences to hear certain speakers. I love learning new things and I know that if I have some extra spending money, I'll have no problem spending it there. For some people, their "thing" is getting detailed tattoos or going to concerts. Others are really into makeup or video games and like to spend their cash on getting the latest and greatest.
It's important to know, early in your relationship, what thing (or things) the person you're dating likes to spend money on.
Understanding your partner's habits will give you an expectation so you're not blindsided when he or she keeps dropping hundreds of dollars on model airplanes or fine wines. It won't feel like financial irresponsibility so much as a investment in one of your partner's interests and financial priorities.
Plus, if you find you have the same interests as your partner, it could give you an opportunity to bond.
I have one friend who loves dogs (and even has four pups at home). She's never been afraid to spend money on her pets and has been known to drop hundreds (or thousands) on outfits for them, groomings, teeth cleanings, and even special dog foods. Recently, she met a guy who loves dogs just as much as she does and she was so glad to find that he understood the idea of spending a good chunk of change on a fuzzy friend's care and well-being. It helped the two get to know each other and create a bond early.
Side note: if you're thinking this might be an awkward question to ask on a first or second date, don't worry, because you probably won't have to actually ask. Usually, the answer will be pretty clear a couple dates in. If, for example, you notice your date wears a lot of designer clothes or talks about parts for their car a lot, you've probably got your answer.
2. New relationship: Is money important to you?
On some level, money is important to everyone. At the bare minimum, we need enough to pay the bills and buy groceries, but to some of us that's where it ends.
Some people work just enough to be able to get by and they enjoy the freedom that comes with having just a few bucks in their bank account. Meanwhile, other people can't stand to live paycheck to paycheck. They only feel secure when they have a heafy savings account to fall back on and panic if they don't have at least 20k squirreled away somewhere.
Many more are somewhere in the middle: they know that making money will allow them to do things they like and they value that. They work hard at saving but aren't afraid of a little spending either.
When you've been dating someone for a little while, it's important to know how they handle money—and how that compares to your habits. Someone who is fast to spend might drive a "super saver" crazy. However, two savers together will likely fill their time with work and never spend their earnings on the fun things they deserve.
The key is to find someone who isn't too different from you in regards to money habits, but isn't too similar either.
For example, I probably spend a little bit more than I should—but I don't mind spending money on a day trip or a nice dinner out if I know the experience will be special. Meanwhile, my husband is a little more frugal. He hunts for deals and is a little more hesitant before buying something he really wants. But in the end, we even each other out. He helps remind me of good saving habits and I make sure he knows when it's okay to spend money on something really great.
3. Getting serious: Do you have any debt?
This can be a bit of a sensitive subject for some people so you should usually save the debt talk until you're comfortable in your relationship.
The truth is that, these days, most young adults have at least some debt. They might have student debt or credit card debt, but just because someone has some extra bills to pay doesn't mean they're financially irresponsible.
In fact, maybe it's a hint that they actually are good with their finances. For example, maybe your boyfriend or girlfriend needed a new car, and instead of dropping all their rent money on a fancy new set of wheels, they started making manageable payments on a sensible car.
Debt itself isn't always a red flag. But when someone keeps spending outside their means on things that they don't need, it can be. When someone buys a house they can't pay a mortgage for or they rack up credit card debt with no idea of how to pay it off, that's when it's a problem.
When my husband and I were really getting serious, we were both lucky to not have a lot of debt. I had a mortgage and was on track to pay off grad school, while he just had some car payments. None of our debt was overwhelming and we were glad to see each other handling debt so well. We were able to talk about our plans for the future while getting to understand each other's financial responsibilities better.
Of course, it's easier to talk about debt if you only have a little bit of it, but even if you have a lot and bills are piling up, don't be afraid to talk about it with your partner. The best thing you can do is make sure you talk about your debts and your plans for paying them off. As long as you're patient with each other, and there are no secrets, you should be able to work through it.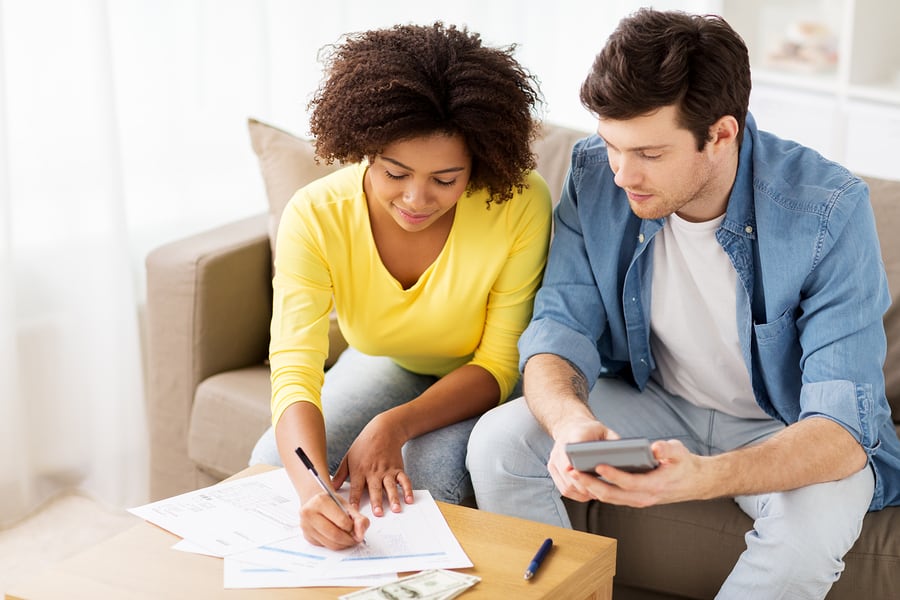 4. Thinking about marriage: What are your long-term financial priorities?
When you get to the point in your relationship when you start thinking about marriage, you should also be talking about your long-term priorities.
When my husband and I talked about this just before we got engaged, we discussed setting aside money for travel, saving up for a bigger home, and building up our savings account before having kids. We were lucky to find that we had a lot of the same priorities.
But not every couple is so like-minded.
For example, couples who meet later in life might have other financial commitments. Maybe one person already owns their dream home, maybe the other is focused on putting their kids through college. You might not have the same exact goals as your partner, and that's okay.
However, it's important to know what both of your priorities are and how you're going to work together to achieve those goals.
5. Engaged: How do you envision our banking situation after marriage?
In the olden days, married couples had one bank account that they shared. It was simple and a lot of people still enjoy this method today. However, many prefer to handle their money in a different way.
Some couples think it's really important to have completely separate finances and to pay for things like rent and utilities 50/50. Others might like to have one large, shared account for the bills as well as two smaller individual accounts as well.
There are tons of ways to handle your finances and there's no wrong answer to how you plan on handling your money. However, you must make sure you and your partner can agree on a method. Some like to have a little privacy on their spending (because who really cares if you spent $30 on a salad if you're still on budget for the week?) while other couples want that full disclosure to keep each other on track. If you don't agree on a method together, you might have to compromise or get creative.
When my husband and I got married, we combined everything and decided to simply talk to each other before spending a large amount. We're good communicators and not big spenders, so it works great for us.
One of our couple friends has a system where they put 75% of their income into one account for their joint bills and 25% into their own separate checking accounts. They like being able to have the joint account to make bill payments easy but they also like having the smaller accounts to make sure they're not going over budget.
Know that every couple will have a different financial situation for different reasons. It's important to communicate with your partner and decide what's going to work best for you.
6. Married: What do we expect each other to spend… and on what?
Once you're married, you might have to be more involved in each other's finances. After all, you're legally bound to any debt your partner may accrue. But, know that since you get to be involved in your spouse's finances, your spouse might want to have more of a say on your spending as well.
Of course, this can be challenging. When you're single, you get to spend money on whatever you want, but once you're married you need to work more as a team.
Consider setting a family budget by talking about how much each of you should aim to spend every day/week/month. Account for necessities (such as groceries and gas) as well as fun things (like dinners out and gifts).
My husband and I like to talk about spending on a case-by-case basis. We decided early on that if we were going to spend over $200 on something, we'd talk to each other about it first. Of course this amount will probably change as the years pass and we get more established in our careers, but we like the idea of checking in before spending a lot of money.
However, lots of couples keep their finances in check in other ways. One couple I know likes to set monthly budgets for shopping and date nights out. They give themselves just a couple hundred dollars each month for new clothes or dinners at restaurants. If they spend their whole "date night budget" in one night, they eat at home for the rest of the month. If they spend their "shopping budget" on just a few items, they don't buy new clothes or accessories until the next month.
Of course, you'll have to start by talking about your existing habits before you make a spending plan together. So, grab your bank statements and sit down with your partner. Talk about what you usually buy, how much your usually spend, and how you can improve your spending habits to reach any financial goals you may have.
While finances can be a touchy subject in any relationship, it's important to communicate about money. If you can use these 6 questions to kickstart the conversation with your partner, you'll feel more secure in your finances and in your relationship.