How our love began?
Sooo on July 23, 2011, he likes to say I was bored on Facebook, which is what one is when they decide to scroll facebook lol. Anyway, I came upon his sister Kara's page and I saw a pic of him so I texted her "your brother is cute." To which she replied, you saw him? Unbeknownst to me, he was living in GA and only lived about 15 mins from me. She then said that I should send him a friend request to which I responded why, so he can say who the hell are you? Lol, she said no I'll tell him about you. So I sent the request and a message saying who I was and whatnot, then I laid down to take a nap before I went out later that evening. When I woke up, he had messaged me back with his number. So, I called him and he ended up coming over that day and we sat and talked for a while till I realized it was getting close to the time I needed to leave.  I went out with my friend that night and he sent me pics for his contact photo and that was over 9 years ago!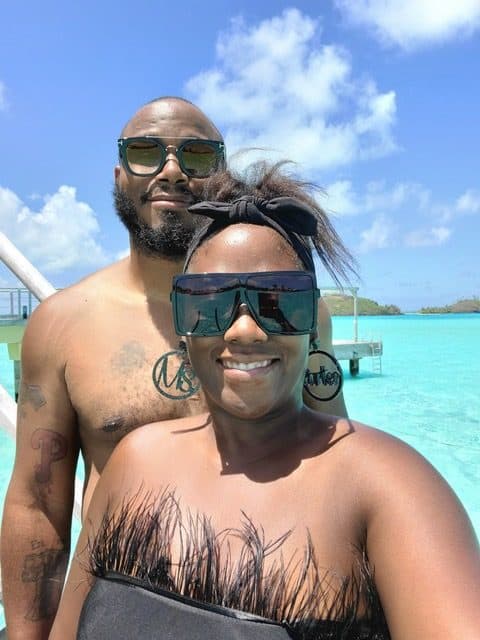 Dating👫🏾
One of our most memorable dates if you will, was the very first time we hung out at his home. We were sitting on his couch playing each other music. He asked me if he could kiss me, which was so refreshing because in my 29 years at the time, I don't recall any man ever having asked to kiss me and I thought it was the nicest thing. Some time later in the evening, he asked me to dance to one of my all-time favorite songs by Musiq Soulchild who also happens to be his cousin.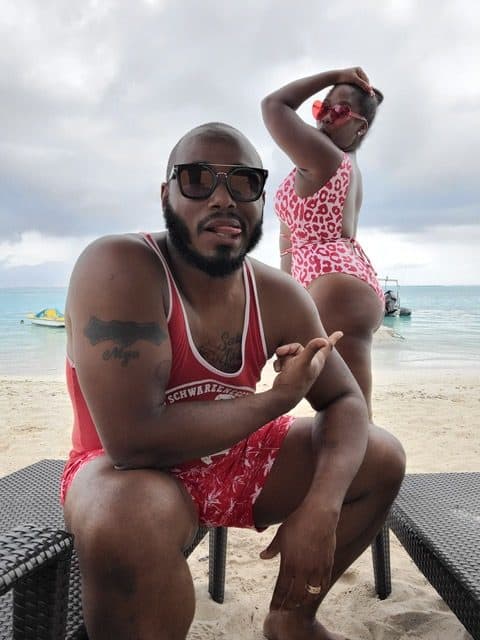 Our first trip✈
We took our first trip before we were an official couple in January of 2012, which was 6 mos after we met and a month before we made things official.  We went to St. Thomas; one of the Virgin Islands and had an absolute ball! From touring the mountaintop that has since burned down, walking the island in search of an open gas station,  downing Painkillers at Megan's Bay to making love in that very bay was a first and highlight!
How he proposed?
It was my birthday on August 28th in 2017 and we were in Australia because I love to travel for my birthday! We took the train from Perth to a town called Cottesloe and went to their infamous beach known for its beautiful sunsets along the Indian Ocean. We were playing music and just enjoying the sights and each other. I started playing Loved By You by Mali Music ft Jazmine Sullivan and I remember hearing him say this is perfect and then next thing I know he was on one knee in the sand. We shared some beautiful words and I said YES! After we took in the moment some more, we went to eat some fish and chips at a local restaurant and then took the train back to our Airbnb and remained on cloud nine for the rest of the trip across Australia to Melbourne, Sydney, Cairns, and then to New Zealand.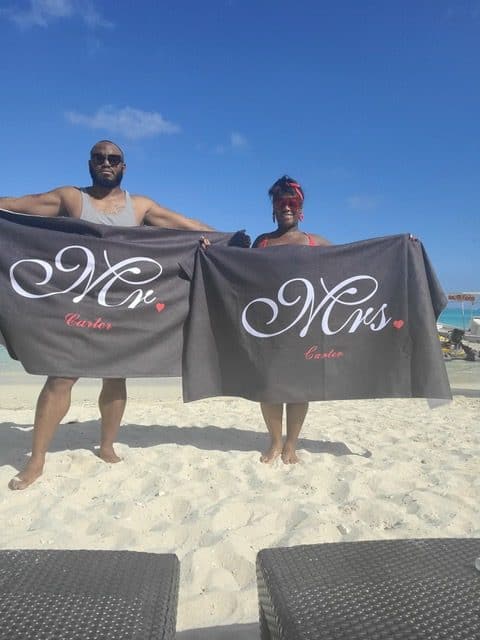 👰🏾🤵🏾Fast forward to just under 3 1/2 years to October 10, 2020, our Wedding Day! The whole thing was a blur lol but a beautiful one despite all the drama (losing bridesmaids one after another,  vendors canceling, Covid-19) leading up to it. Our colors were red, black, and bling and it was a beautiful, hot day in Palm Springs, CA. Our wedding party consisted of friends and family we've known practically our whole life and some who just stepped in and increased their value in our lives substantially with grace. Our years of being together prepared us for marriage. Our trips to counseling, love for each other, failed 1st marriage for him, and my determination to succeed fuels this marriage of ours. Our day was the perfect blending of friends and family that has blossomed into new friendships and it was a beautiful thing to see. My husband and I don't have any children together but together we have 5. He has 4 children from previous relationships that live with their mothers and I have a son who lives with us.  During the reception, my son took the opportunity to let Joel know that he was going to start calling him Dad from now on since it was official! That was one of the absolute highlights of the night and my life to see their relationship reach that point of love.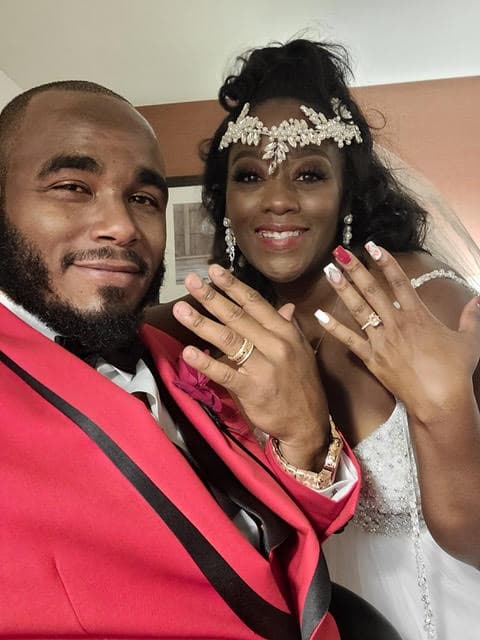 🏖Happily Ever After
The night after we officially became Husband and Wife we left for Moorea and Bora Bora for our 10-day honeymoon. We spent 5 days and 4 nights on an island called Moorea a mere 30 min ferry ride from Tahiti. We stayed at the lovely Sofitel where we had a beachfront bungalow and the views were to die for. As most honeymooners, we spent a lot of our time consummating the marriage🤣 Honestly we were just happy to be away from responsibility and drama so we took in the views, got a massage, and met a few other guests, and kept it low-key for the most part.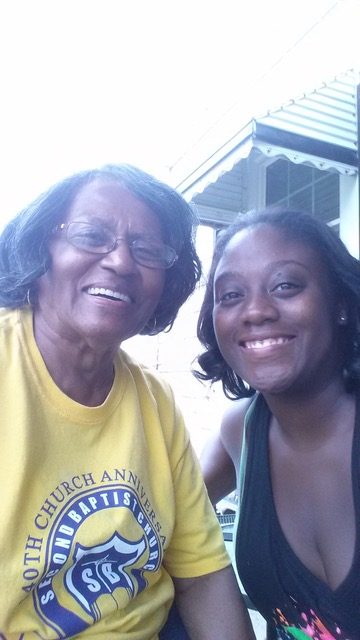 Most Difficult Mix of Emotions
On our last full day in Moorea, we Iearned that my grandma had passed away and it was THE ABSOLUTE most difficult mix of emotions I've ever felt. Here I was, feeling so in love and happy with my best friend that I married just 5 days prior. Then boom came the 🔨 and I'm devastated that the woman who once cooked me breakfast before school, took pics of me in her yard and the reason I fell in love with taking pictures was gone!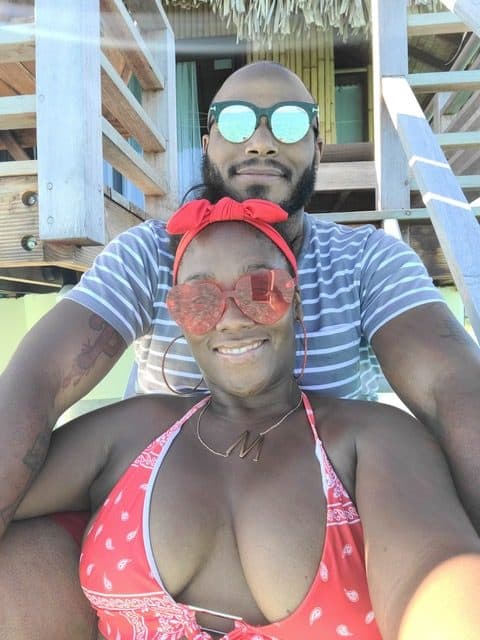 Celebrating Our Love and Honoring Life
Thankfully, I had my husband by my side and another beautiful destination on the horizon to take my mind off it somewhat. We headed to Bora Bora the next day; a 45 min flight and subsequent 15 min boat ride and I was in awe! This was the perfect background for my impending photo shoots for the next 5 nights and 6 days. I couldn't think of a better way to honor her, than by doing something I learned to love with her. The journey that Joel and I took to becoming one was easy in the sense that I never had to force how I felt for him but it was trying to go through all the things one does to see if love is enough. Love is a choice and I would choose him every single day!